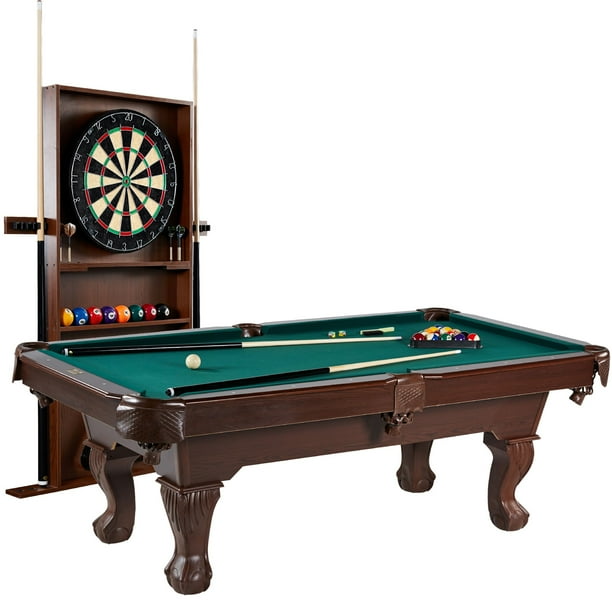 Barrington 90" Ball and Claw Leg Pool Table, Cue Rack, Dartboard, Green
Buy Now
Walmart.com
as of October 1, 2020 2:49 pm
Features
| | |
| --- | --- |
| Brand | Barrington |
| Manufacturer Part Number | BLL090_017B |
| Assembled Product Dimensions (L x W x H) | 89.00 x 50.25 x 31.00 Inches |
Beautiful styling and precision performance spotlight this Barrington 90" Ball and Claw Leg Billiard Pool Table with a Bonus Cue Rack and Dartboard Set. It features a high-quality, scratch-resistant rail coating, which improves the durability and longevity of the table. The genuine K-818...
User reviews
This table and dart rack combo is amazing. Hard to assemble if you are by yourself, but with two hardy boys you can do it (use a sawhorse or a chair back with a towel over it when its time to flip it on it's feet). So impressed. I play every pool single day. It is pretty much completely leveled from the get-go. Dartboard cabinet has saved my wall from a thousand holes already.See more
There is just something about playing pool & tossing a few darts that is quite relaxing. Even after a particularly hard day, either of these games will help you unwind quickly.Picking up this Barrington combo pool table & dart board rack set is a great idea. It is such a cool addition to the game room or man/woman cave, that you'll want to get other pieces around it for the pool table theme (depends on your room). You can use the shipping panel as a cover if you want. I got a nice vinyl cover at WalMart very cheap to add to that. My 7.5' table is a great size. Not over bearing & not in the way. It provides a fun game, & can have add on pieces later if I'd like.The table is stable enough to slowly push around the room with furniture sliders on it. Be sure to adjust the levelers before putting everything on top of the sliders. You can pre-measure when it's not so heavy.This is a very heavy piece, & you will need other people to help you. It comes in a single box, so be ready for that. I expected a few boxes. Luckily I had a friend over, when it was delivered. When it made it to the porch, I "broke it down", but the table itself is heavy enough. Once assembled, it's obviously even heavier (less rack, balls & so on).Even the instructions say to have at least four people turn it over. So what I did was build the legs & base (apron) on the floor & put the table on top of that. This way you only need two people total, to lift the top in place, not 4-6 people to turn the whole thing over.With a little more wiggling, it went right into place.They assemble quite a whole bunch of this table at the factory, I am very happy to say! It's really a matter of putting the legs together, the skirt on, putting it together.It's a very sturdy table, with very thick felt & the bumpers are great. Just like any big table I've played on.I wouldn't put anything heavier than the cat on it for "photos", certainly not the kids, it isn't made for that.The build instructions aren't complicated, but they aren't quite spot on either. It does list the pieces needed to complete the task on each page, & has zooms. I only had two instances where that was wrong, or incomplete. Not everything fits accordingly either. When you register, they want gobs of personal info. I hope it's to thwart buffoons, & not for sales calls. You can download the instructions & manual, buy extra pieces, report missing parts (hopefully works) & so on. Real easy.You will be very happy that you got this Barrington pool table & dart board combination. You will have some place to put the accessories that is clean & sharp looking, plus you get darts. These aren't competition or regulation pieces, get those later. These are for playing with. Something to enjoy, practice, learn & so on.I didn't expect them to be professional pieces, but am surprised at how well the pieces are overall. It really looks snazzy, & with a little additional themed items awesome! The table looks great, just sitting there alone; add a cue rack & dart board, & you get the WOW. You can easily pick up a bunch of additional accessories at your local WalMart, or order them on-line. I have.See more
Barrington 90" Ball & Claw Leg Billiard Pool Table with Cue Rack and Dartboard Set is absolutely beautiful! Upon arrival, it took 4 adults to move the table into the house. It is very heavy. The box was torn in a few places but there was another box on the inside which was not damaged. Assembly of this two tiered table took quite some time (about 5 hours) because the Billiard Table itself was comprised of about 59 different pieces and I found it best to assemble from the bottom up. Once assembled it took 4 strong adults to move it into place in our game room. This table is stunningly designed and comes with a scratch resistant rail coating and classy claw legs. It is made with K-818 bumpers which helps with consistent ball bounce. The balls bounced perfectly on the table when hit. The felt green polyester tricot covering is very smooth which helps with the ball roll. The dartboard comprises of about 43 or so pieces. It was fairly easy to assemble. The dartboard has a nice storage section and it comes complete with 2 cue sticks, 1 triangle, 2 pieces of chalk and a brush for the pool table. My grandchildren and children love to gather for a great game of pool or darts! It's also nice for quiet evenings as well. Sometimes my husband and I want to just sit and have a cup of coffee and just relax and play a quiet game of pool. I am very happy with this game set and I would highly recommend it to anyone who would like to add some real family fun to their game room or their man cave!See more
See More billiard table manufacturers @walmart.com
See More billiard table manufacturers @wayfair.com

---
Bean Bag Chairs Offer ::
See All Bean Bag Chairs @walmart.com
See All Bean Bag Chairs @wayfair.com
---
Some Book About billiard table manufacturers
---
Best Coupons Offers
---
Gaming Room Appliances Offer ::
Gaming Room Appliances @walmart.com
Gaming Room Appliances @wayfair.com
---
billiard table manufacturers News
Latest Says About billiard table manufacturers on Twitter
Related Searches
Gaming Furniture
Make your game room the best room in the house with the help of some gaming furniture. Gamers typically play on platforms such as the PlayStation, Xbox, or desktop PC. Some folks even participate professionally in eSports, but anyone can enjoy a good gaming chair or desk. At Shop Gaming Furniture, you'll be able to find a wide variety of furniture, from the best gaming chairs and chair rockers to storage cubes and TV stands at Every Day Low Prices.
For those who like to play PC games, a gaming desk can be the perfect addition to any bedroom, office, or game room. How is a gaming desk different than a regular desk? Gaming desks, like the name says, are made for gaming and usually offer more comfort and ergonomics than regular office desks. Much like gaming chairs, gaming desks also range in the number of features that they offer. Some have adjustable tabletops, so you can adjust the desk to your height for the perfect reach and positioning of your hands. Many also come in L-shapes that can fit in corners, taking up less room while providing more space for several monitors or laptops.
Poker Tables:
Some game rooms center around games of reflex and physical ability, and others revolve around games of chance and misdirection. A perfect poker table provides more than a playing surface; it is a central piece of game room furniture that draws the eye, provides ample space for each player, and provides a safe area for drinks that won't damage the playing surface. Shop Gaming Furniture carries simple and small four-person poker tables to oval tables sized to accommodate large groups of players.
pc/racing gaming chair
PC & Racing Chairs: as the name might imply, this type of gaming chair is optimal for PC gaming. Visually, they look like a combination of a standard office chair and the driver's seat of a high-end sports car. PC gaming chairs are typically made from comfortable leather and offer back and neck support to let you game in comfort. As is the case with a standard office chair, these gaming chairs offer the ability to easily swivel, which can come in handy if your gaming set up has multiple screens that require your attention, or if you're looking to grab a quick refreshment in between sessions. Some gaming chairs even allow you to lean back and recline to your liking.
An important factor in deciding on a PC or racing gaming chair is size. Be sure to look at the dimensions of the chair you're considering to get a feel for how it will fit with your desk or game station. Keep in mind that gaming chairs are adjustable, but selecting the right size is half the battle.
At Shop Gaming Furniture, we try to make sure you always have many options for your home. That's why we have so many gaming chairs for sale on our site, including gaming chairs from brands like Techni Sport and Zipcode Design. We want to make sure when you're looking for where to buy gaming chairs online, you're getting the one that's exactly right for you, whether that's the Lowndes Ergonomic Genuine Leather Gaming Chair, the Rocker Game Chair, or something entirely different and unique to your home. We have thousands of great deals every day with no need for a coupon. There's never been a better time to "gaming chairs".
Break down the walls of tradition
At Shop Gaming Furniture, you'll find a great selection of standard audio and media towers to fit all your needs. However, if you're looking to take your media storage set up to the next level, try picking up an audio and media tower without a closed back. Audio and media towers that have an open design can do wonders to modernize your home. They're also much more versatile so you can set up your audio rack or DVD cabinet in more ways than one when it's time for a change.
How Big Are Bean Bag Chairs?
A bean bag chair can come in a variety of sizes. At Shop Gaming Furniture, we offer small, medium, large, and extra large or oversized. Small bean bag chairs are perfect for kids. They make a great resting spot for kids after a busy day in the playroom. Kids will also enjoy picking out the color and pattern of their new bean bag chair. Our large and oversized bean bag chairs are great for adults because they offer enough support to comfortably sit and play video games or read. Bean bag chairs for adults are great for gaming or for lounging in dorm rooms that can't fit full size furniture. Shop Gaming Furniture has a variety of bean bags for every size and age.